by Ally Carter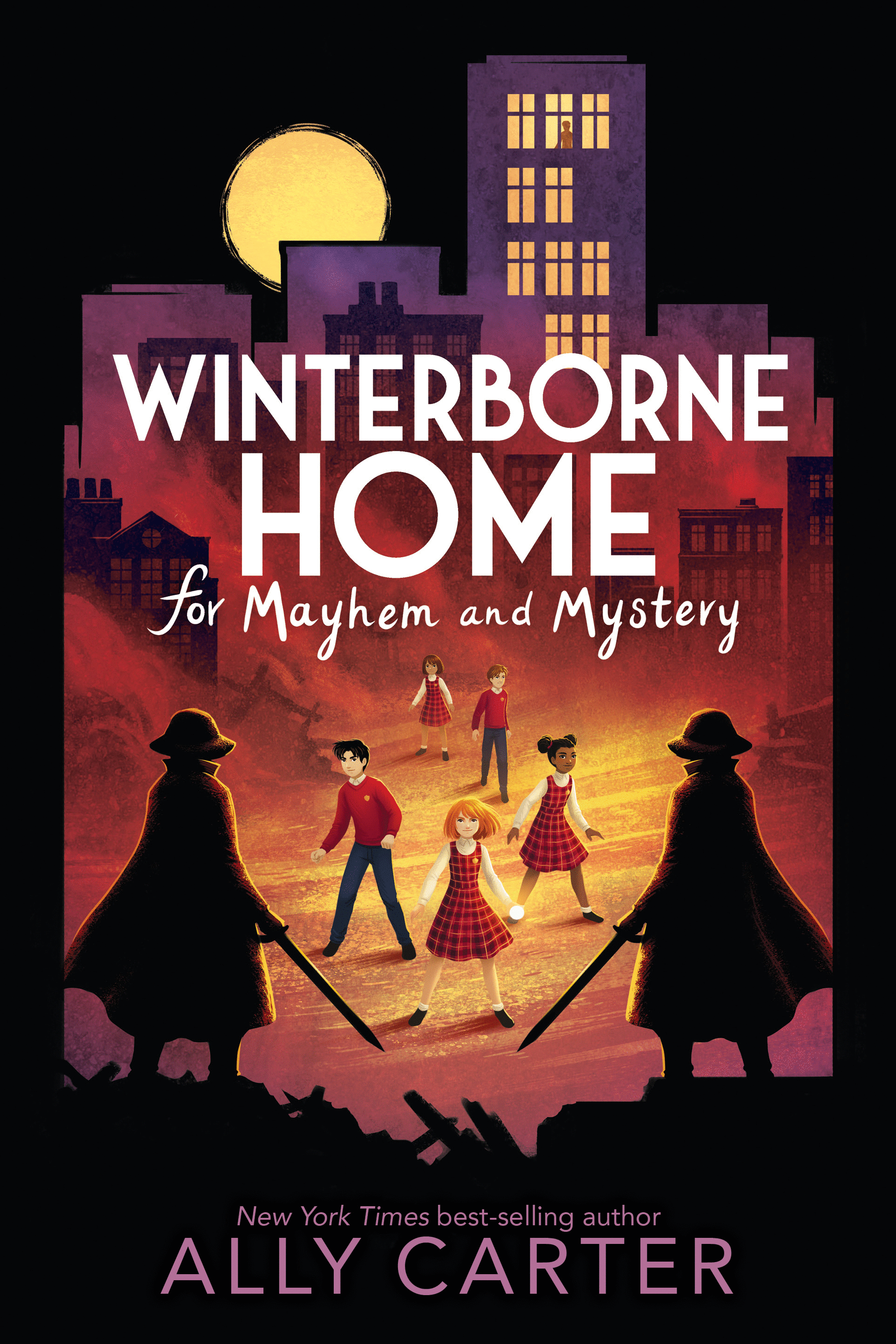 Note: This review contains spoilers for book one in the series!
Winterborne Home for Mayhem and Mystery picks up several months after the ending of the first book, Winterborne Home for Vengeance and Valor. April, Colin, Sadie, Tim, and Violet are all settling into life at Winterborne House with Gabriel as their guardian–since Izzy disappeared at the end of book one. Within the first several chapters though, their life at the Winterborne House is threatened by the visit of a Child Protective Services agent, who seems very dissatisfied with Gabriel's care. And the stakes get raised even higher when someone, a second sword-wielding, fake Sentinel (Gabriel is the real Sentinel), breaks into the Winterborne House and Gabriel meets his match. The day after the break-in, Gabriel disappears. And the social worker keeps coming back, wanting to talk to Gabriel.
Winterborne Home for Mayhem and Mystery is a super fun MG read. Like its predecessor, it feels a little bit like all of Carter's other books rolled together into one. We've got heists, spies, secrets in the past affecting the present, and some plain, old-fashioned survival. All together, it makes a great story.
I loved getting to get to know the characters more in the second book. I especially liked how Carter made the characters' personalities and backstories create conflict as they tried to decide how to deal with the situation of Gabriel disappearing.
Also, I loved how Carter pulled a small detail mentioned on the first page of Vengeance and Valor and used it in Mayhem and Mystery. It speaks to her expertise as an author.
The plot develops well throughout the novel. There are some parts that seem less important and slow, but as plot twists are revealed, they become much more important. There is a lot of information revealed and set-up laid for future books in the series.
Overall, Winterborne Home for Mayhem and Mystery is a great second book in the series, laying the groundwork for the books to come. I can't wait to see what Carter continues to do with this series.
Cautions: mild-moderate, non-graphic violence
***I received an e-arc of the book through NetGalley. All opinions expressed in this review are my own.***